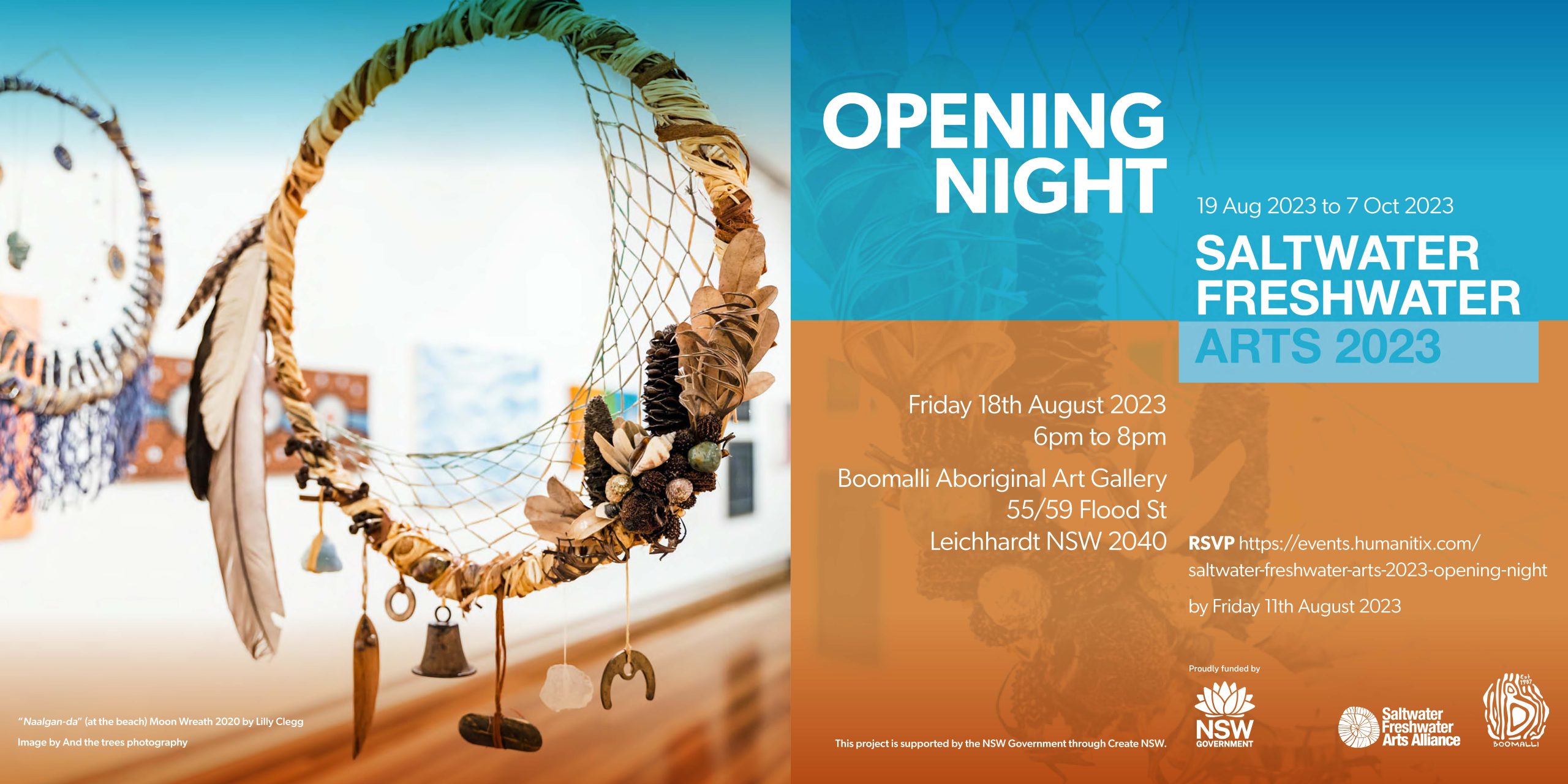 Saltwater Freshwater Arts 2023
Curated By Catherine Croll
Featured artists
Alison Williams, Angela Marr, Antwinette Dunn, April Bulmer-McDonald, Corina Latimore, Danielle Burford, Dimity Sinclair, Erica Blanch, Gai Southwell, Gus Kelly, Jason Ridgeway, Jeremy Saunders, Josie Flanders, Kathy Stevens, Keiana Bateman, Kim Healey, Laurel Swan, Leo Wright, Lilly Clegg, Mabel Ritchie, Matthew Flanders, Michelle Flanders, Natalie Jennings, Nicole Duncan, Prisilla Whyman, Rachel Cross, Sandy Abigail, Shannon Stone, Sheyleace Stevens, Tulli Stevens and Zoe Golding.
Saltwater Freshwater Arts 2023 is a touring exhibition combining the Saltwater Freshwater Aboriginal Art Award and contemporary cultural objects exhibition. The exhibition features Aboriginal artists from the Worimi, Biripi, Dunghutti and Gumbaynggirr Nations on the Mid North Coast of NSW.
The exhibition starts its journey on Gadigal and Wangal land in Sydney, opening at Boomalli Aboriginal Art Gallery on Friday 18th August with an eclectic and diverse range of artwork and cultural objects.
This year's exhibition will be curated by proud Wiradjuri woman Catherine Croll from the Riverina Region of NSW, now living on Awabakal Country in Mulubinba (Newcastle). Artist, curator, writer and lecturer in Aboriginal and Torres Strait Islander Studies at TAFE NSW and Founding Director of Cultural Partnerships Australia, Catherine has initiated and managed large international touring exhibitions and cultural exchange programs throughout the Asia Pacific. Her work during the past 20 years has focused on developing greater understanding, trust and mutual respect between Australian Indigenous artists, curators and communities and those working in and exploring similar social and historical issues in mainland China.
"I'm delighted by the diversity of artwork and the breadth of the stories submitted. Artists from across the Saltwater Freshwater footprint have created pieces which reflect their personal journeys, connection to country, language, culture and family. Many of the works specifically reference the colour of the artist's saltwater/freshwater country and their connections to the ancestral knowledge and lore passed down over millennia."
– Catherine Croll
RSVP for opening night: https://events.humanitix.com/saltwater-freshwater-arts-2023-opening-night
Virtual Tour